About Vickery Water Softeners
Matt and Lindsey Vickery
Matt Vickery, based in Whiteley near Southampton has many years experience in the plumbing industry, is apprentice trained and qualified to NVQ level 2 and 3.
After working for different companies and learning about the different areas of the water industry, he decided to use these experiences to start his own business with his wife Lindsey, and provide a quality service while also offering a personal touch to customers.
As a small company, Vickery Water softeners are able to really look after their customers and get to know their water softener needs. This is mainly due to the fact that Matt completes both the survey and fitting of the softeners. If there are any queries or problems it will be Matt who will deal with them and sort them out. No need to talk to lots of different people!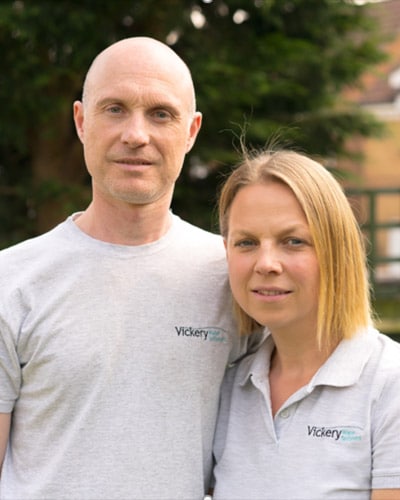 "Excellent workmanship resulting in a first class job. Professional, friendly and thorough." (Customer in Fareham)
"Fantastic service and great advice provided." (Customer in Fareham)
"Absolutely outstanding job and an utterly delightful business owner: careful, polite, trustworthy and professional." (Customer in Fareham)
"10/10 Score says it all very satisfied." (Customer in Sarisbury Green)
"We are very pleased with the installation of the water softener and the help, support and advice provided by Matt, excellent and very efficient." (Customer in Locks Heath)
"Excellent service, punctual, clean and great result. Would definitely recommend him." (Customer in Whiteley)
"Matt met the highest standard, the one he sets himself. He clearly explained the workings of the softener, gave guidance as to when to fit it and completed a very professional job." (Customer in Eastleigh)